SOOTHING IRRITATED NOSES FOR 105 YEARS
Protects in Dry & Cold Climates

Soothes & Relieves Sore Nose
With every purchase made, we donate $1.50 from every tube to the Red Nose Foundation in its mission to end childhood poverty.

PROVIDES GENTLE, SOOTHING RELIEF
Boroleum® is a versatile analgesic ointment, formulated for effective relief of a wide variety of nasal and facial skin discomforts. When applied to the nostrils, Boroleum® provides gentle, soothing relief of dry nasal passages and redness, itchiness and nasal soreness caused by cold and nasal allergy symptoms and nasal pain caused by cold, flu or runny nose. Its time-tested blend of ingredients gently softens and soothes, and moisturizes dry, cracked or raw facial skin and soothes chapped lips caused by harsh temperatures -- an ideal skin protectant while skiing, snowboarding, hiking, boating or other outdoor activities.

The skin protectant has a light menthol-eucalyptol scent, and is gentle enough to use on facial skin of children as young as 2 years old. A small dab of Boroleum® goes a long way in relieving discomfort caused by seasonal and health-related nasal soreness.

BOROLEUM FOR NASAL RELIEF
Protects in Dry & Cold Climates


Soothes & Relieves Sore Nose

30-Day Money-Back Guaranteed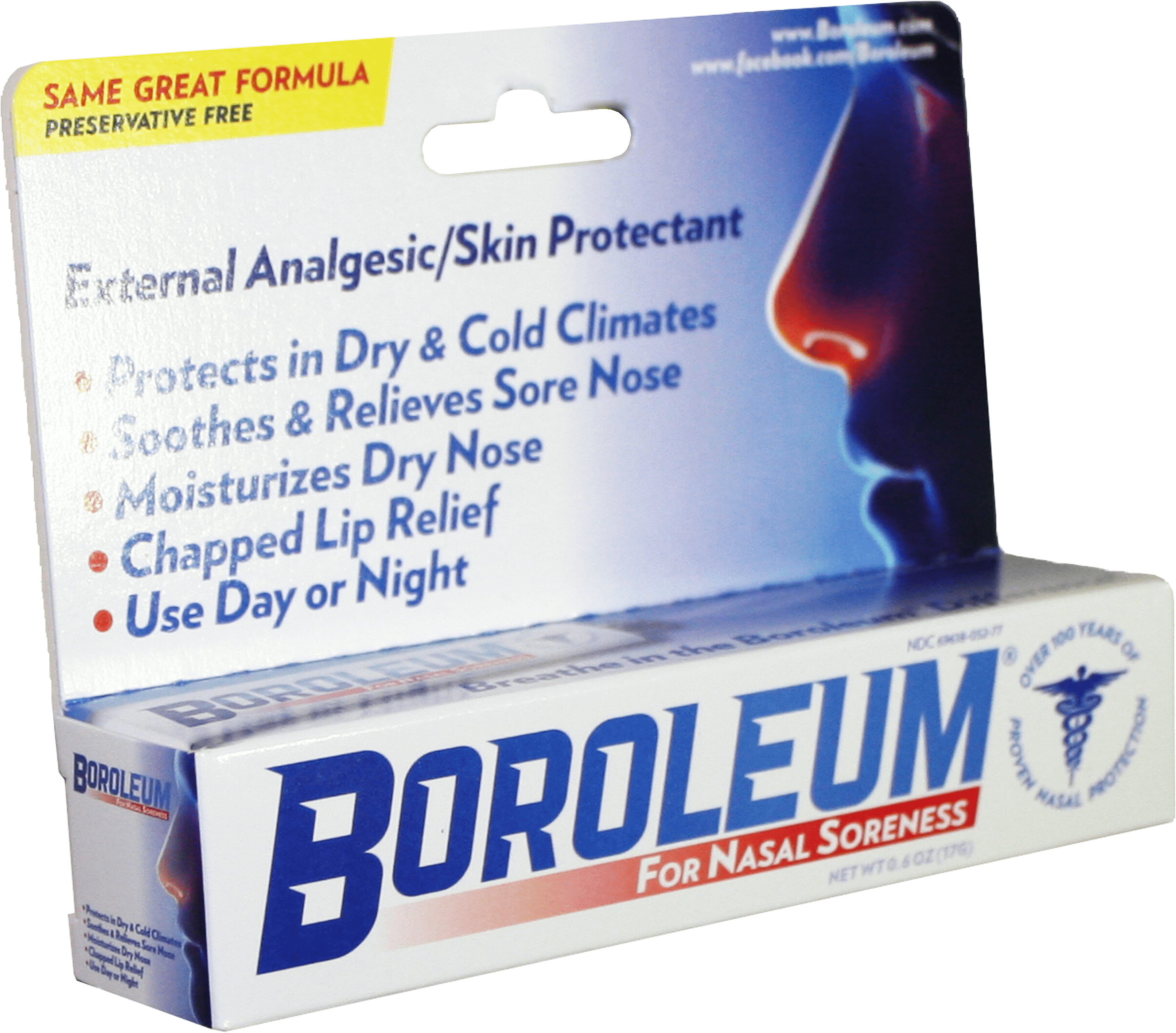 Raw Honey helps reducing breakouts, provides moisturizing properties. It contains antiseptic qualities, encourage wound healing, fighting allergies or rashes, and helping to reduce scars.
Tea Tree has been used for hundreds of years in Australia to fight breakouts, redness and inflammation on the skin. Tea Tree Oil works as a natural anti-inflammatory, anti-bacterial, antimicrobial and anti-fungal.
Almond Oil not only smells great, but it has anti-inflammatory, antiviral, antibacterial, and antiseptic properties. It makes a great carrier oil for essential oils to naturally treat skin rashes, acne or dryness.
We're a proud supporter of the
Red Nose Foundation, are you?
Help us help end child poverty, one sore nose at a time.